1.
Unducted System
Air guide entrance panels help guide air into the inlet of free-hanging air cleaners which are filtering residual wood dust at a furniture manufacturing company.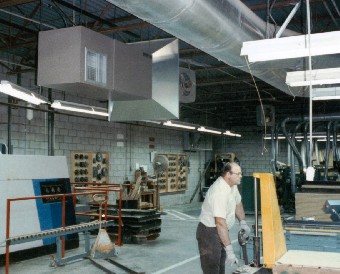 2.
College Shop
Community college collected wood dust with an 18 cartridge dust collector mounted outside. The dust collector provided 6600 cfm with a 25 hp motor. The cartridges were designed with polyester media and were washable. The cleaned air was returned back into the building with a blue silencer on the discharge. Clamp together pipe was used.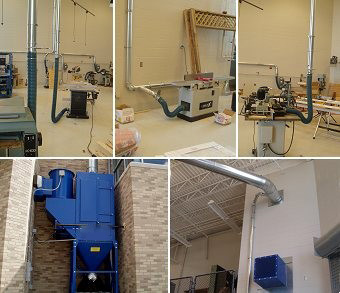 3.
High School Wood Shop
Shaker type dust collectors used to collect wood dust at a high school. One unit provides 6000 CFM with a 30 HP motor and the other unit provides 2500 CFM with a 7.5 HP motor. Both units utilize electric shakers, explosion doors as per NFPA 68, blow back dampers, sprinklers and drum kits. The duct work used is the clamp together modular type.