1.
Welding Smoke — Unducted System
A free-hanging unducted system with a fume containment curtain creates a planned air circulation pattern. The ambient air cleaners achieve a substantial contaminant reduction at steady-state levels for a lawn mower manufacturing company.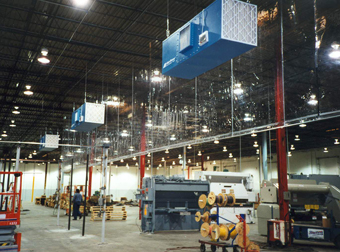 2.
Mig Welding — Unducted Air Cleaning System
A welding curtain was installed on two sides of the space to contain the welding smoke. Then 4 free hanging air cleaners were suspended from the ceiling to create a back and forth air flow pattern with right angle discharge silencers. The air quality was improved 80% with this system.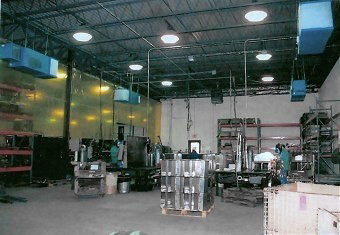 3.
Unducted System
Typically reducing airborne contaminants up to 85%, unducted air filtration systems significantly improve the in-plant environment. This system, designed for a complete air change every six minutes, filters out welding smoke generated in the shop of a railroad parts manufacturer.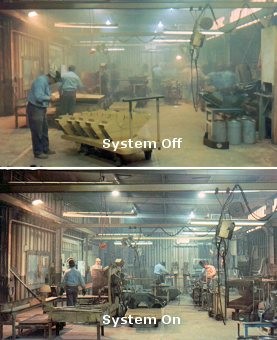 4.
Maintenance Welding
Maintenance shop for large power plant used air cleaners mounted on floor stands to create a cross bay air flow pattern above their welding booths.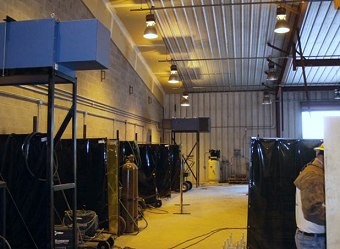 5.
Aluminum Welding — Downdraft Table
Downdraft table controls welding fumes and smoke from aluminum welding on light fixtures.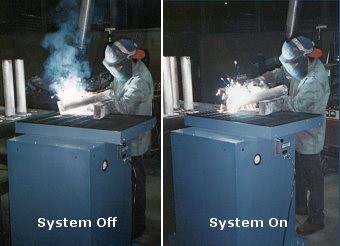 6.
Mig Welding
Maysville Community College uses 3 downdraft booths for collecting mig welding fumes. Each booth is 72" wide x 30" deep and 80" high and produces a nominal 3000 CFM with 140-160 fpm downdraft velocity. The booths are equipped with a metal hinged middle divider, locking casters and a weld curtain to enclose the front. Filtration consist of 2" pleat follow by final MERV 16 (95%) 4" mini pleat.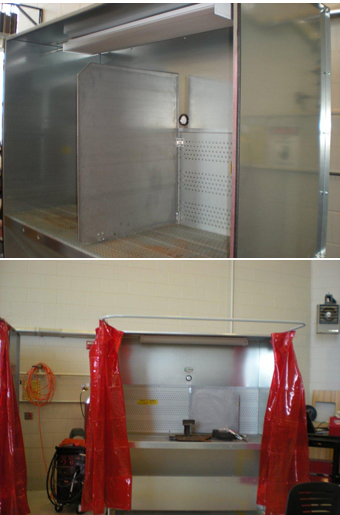 7.
Robotic Welding
A cartridge collector collects welding fumes from a robotic welding cell at a large automotive manufacturing company.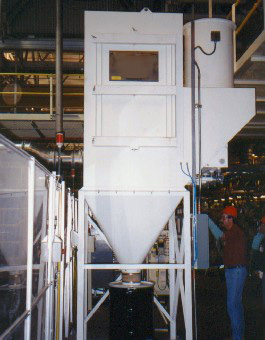 8.
Welding Smoke Extractor Gun
Fume Extraction System captures smoke from welding with .062 flux core wire.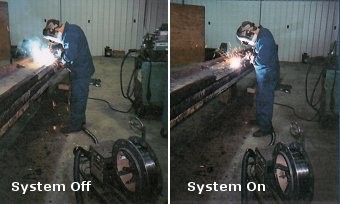 9.
Welding Booth
TIG welding on aluminum parts at a light fixture manufacturing company: fumes are contained and collected in the booth, with welding curtain on three sides and translucent curtain on the ceiling. Regain air plenum recirculates clean air and enhances capture velocity.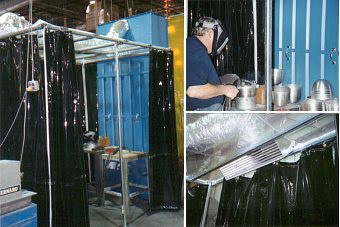 10.
Telescoping Arms
College Lab with 64 telescoping arms, 4" in diameter and telescopes from 4' to 6'. Ceiling mounted. Used to collect fumes and dust.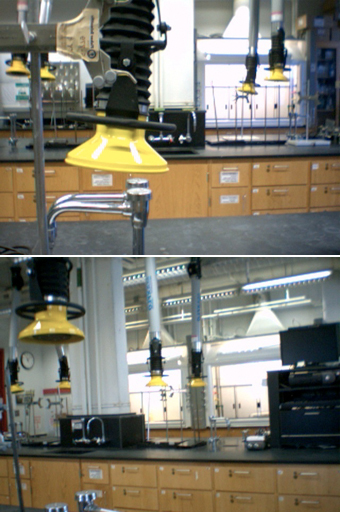 11.
Boom Arm
MAXFLO 6" diameter by 14' length extractor arm connected to 15' boom arm mounted on column of building. 2 HP fan mounted on boom arm and exhausted outside. System used to remove welding fumes from large job shop.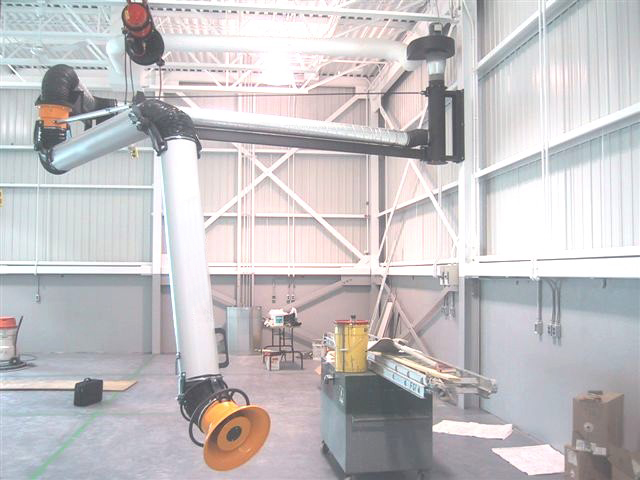 12.
Boom Extractor Arm
Utility company uses a 6"diameter x 14' Long MAXFLO extractor arm attached to a 20' boom arm for collecting welding fumes in their maintenance garage. A two horsepower motor was mounted on the side wall and exhausted outside.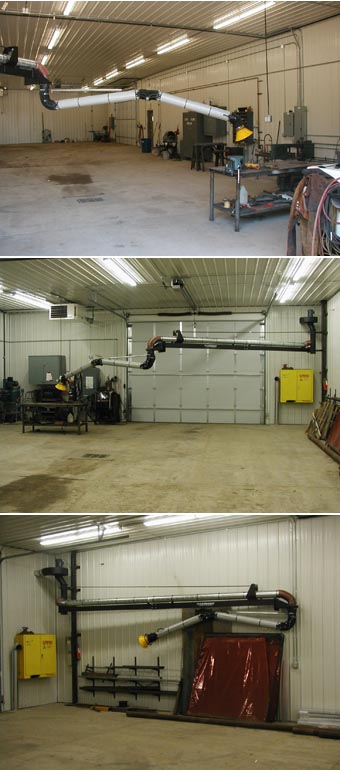 13.
Vocational Welding Booths
MAXFLO 5' length x 5" diameter arms used to collect welding some in vocational welding some booth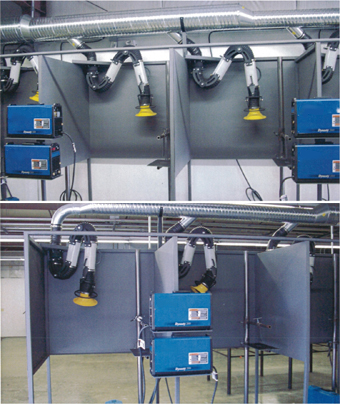 14.
Overhead Collector With Arms
A filtration unit with two flexible extractor arms collects welding fumes from manual MIG welding operations.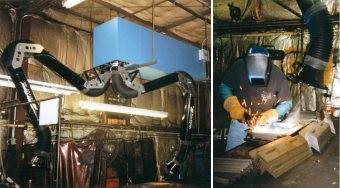 15.
Welding Cells
Welding fumes generated from manual and robotic welding cells at an automotive manufacturer are captured by arms, ducted to the exterior, and collected by a central cartridge collector mounted aside.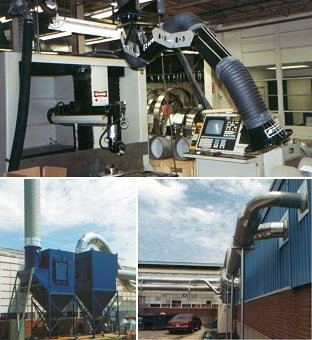 16.
Galvanized Welding Fumes
HVAC contractor uses (5) 14' length x 6.75" diameter extractor arms mounted to 10' yellow support posts. Each EZ arm will rotate 320 degrees. The galvanized welding fumes captured by the extractor arm are exhausted outside via a 4500 CFM blower.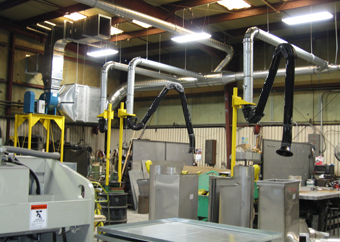 17.
Welding Smoke Extraction Arm
Fume extraction arm 7' long x 6.75" diameter attached to a 5' boom arm for collecting welding fumes. Articulating fume extraction arm moves 360 degrees and is mounted at the end of the boom arm, which is attached to a building column. System was installed to collect welding smoke from a mig welding operation at a fork lift attachment manufacturer. Company was out of compliance with OSHA.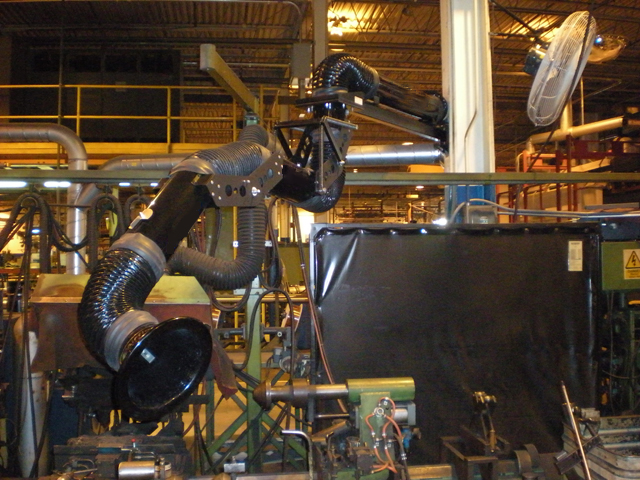 18.
Stainless Steel Welding — Portable
A portable cartridge collector with flexible extractor arm controls stainless steel welding fume.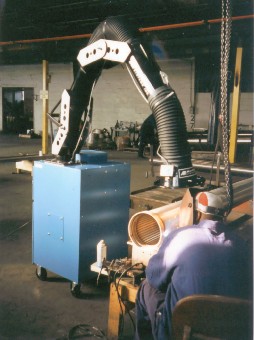 19.
Plasma Cutting
An Arm connected to a cartridge collector along with a downdraft table controls plasma cutting fumes. The ductwork to the collector connects at a spindle for ease of movement.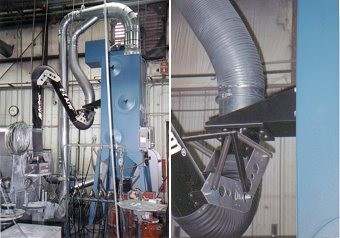 20.
Welding Shop
Three dust collectors with 7.5 HP motors capture welding smoke at a vocational school. Each collector has eight cartridges and is ducted with clamp together pipe to four 6" flexible arms. Each arm has a bell shaped hood with an internal rag guard.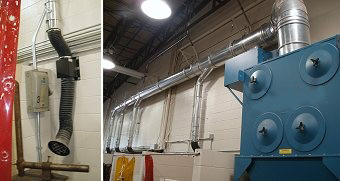 21.
Laser Cutting
A cartridge collector with a steel spark trap collects fumes generated by a Mazak laser cutting operation.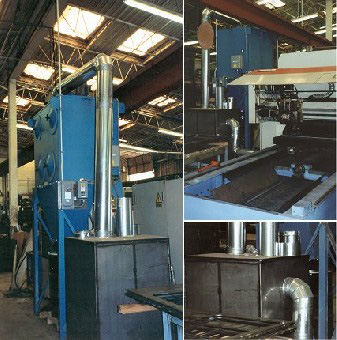 22.
Brazing
A cartridge collector collects fumes from an automatic brazing operation.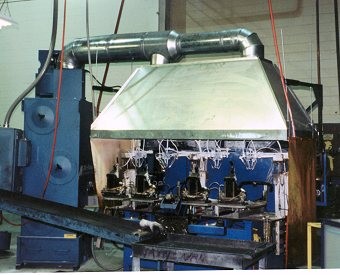 23.
Cutting Slag
A manufacturer of stainless steel utilizes a cartridge dust collector (32 cartridges, 6000 cfm, 15 HP motor) to collect smoke generated while cutting slag from their large ladles. The pivotal 6' diameter bell shaped hood is easily moved out of way when the large ladles were moved in and out by an overhead bridge crane.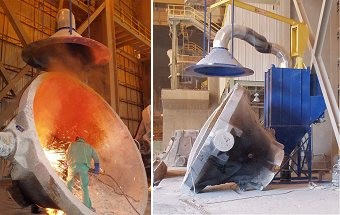 24.
Scrap Yard
Scrap yard using cartridge dust collectors ducted to containment booths to collect cutting smoke.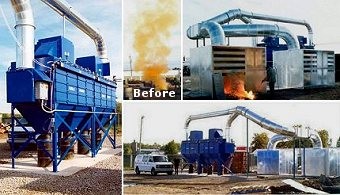 25.
Resistance Welding
A manufacturer of metal stampings for automotive industry used 1 bag filtration system to collect resistance welding fumes and residual oil smoke from their part totes. The unit used a 10 HP motor and was ducted with clamp together piping to (10) 6" diameter flexible arms with capture hoods. The bag filters in the unit are lasting 1 year.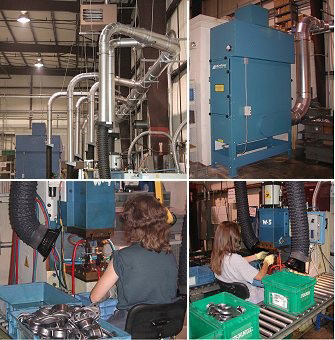 26.
Soldering Fumes
Unit with (2) remote mounted 2.5" arms used to collect soldering fumes.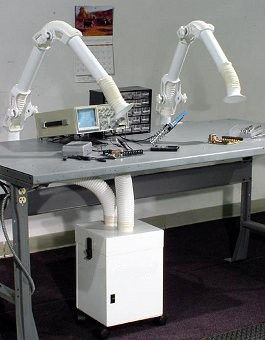 27.
Welding & Grinding
Manufacturer of automobile brakes uses a media air cleaner to collect welding smoke and grinding dust from their existing work table. The table had 1 inch square holes in the top so just the sides were enclosed and then a 12" round duct was connected to the unit.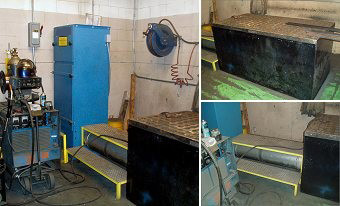 28.
Robotic Welding Cells
Appliance manufacturer uses 8 cartridge dust collectors to collect welding smoke from 9 robotic welding cells.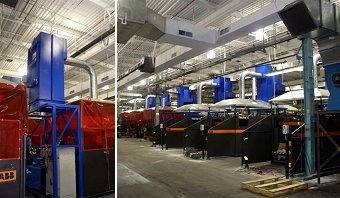 29.
Robotic Cell
Automotive second tier supplier installed a cartridge collector to collect smoke from a robotic welding cell.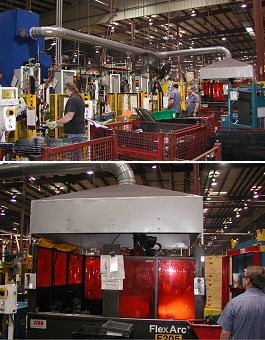 30.
Plasma & Build Up Welding
Cartridge dust collector collects plasma, build up and manual welding. Special hoods were designed for the build up welding, a plasma containment room is used for the plasma and a boom with capture arm for the manual welding. The unit has a drop out box to collect heavy sparks, 56 filters and 40 HP motor which provides 14000 cfm.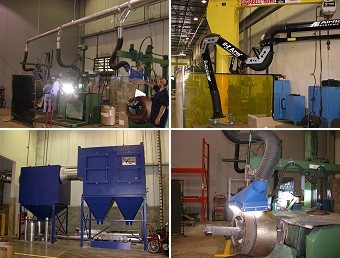 31.
Arms
Flexible fume extractors are used with booms to collect welding fume and exhaust it outside.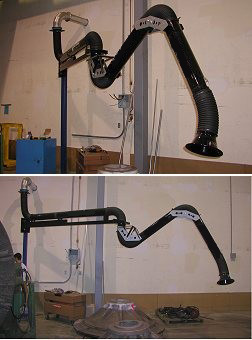 32.
Plasma Torch
Adult Training Center using a downdraft table connected to a remote cartridge dust collector with the patented "Vibra Pulse" Cleaning System to collect welding smoke generated from mig welding and a hand held plasma cutting torch.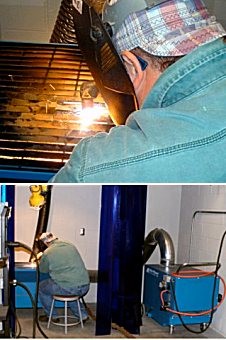 33.
Robotic Cell
Effective fume control is achieved by creating a negative airflow in an enclosed robotic welding cell.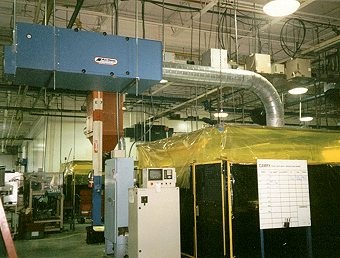 34.
Robotic Cell
In this robotics operation, fumes and smoke are effectively contained in the cell by creating a slight negative and the contaminants are ducted to an external cartridge collector.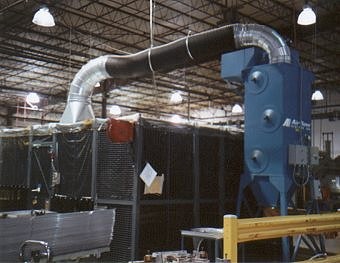 35.
Robotic Cells
These robotic welding cells are equipped with large hoods to capture weld fumes and smoke, which are then ducted to collectors.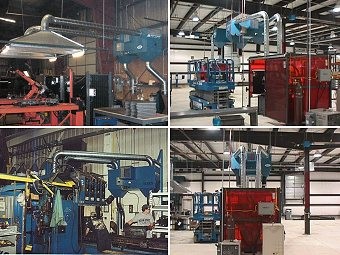 36.
Soldering
A vertical media unit easily collects soldering fumes with 3-inch flex arms.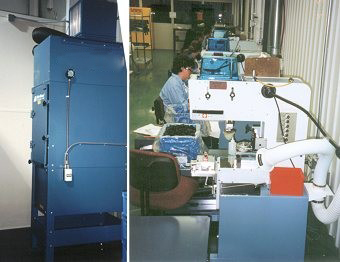 37.
Soldering
A mist collector collects soldering fumes from multiple hand soldering stations with flexible arms.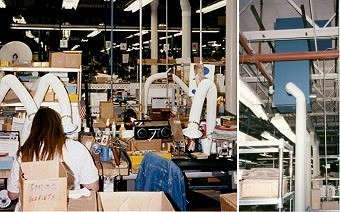 38.
Glue Pot
A portable collects fumes from a glue pot.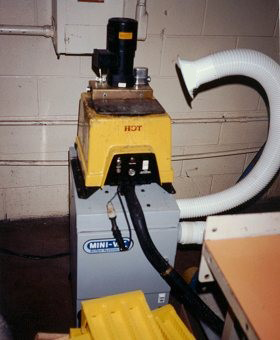 39.
Laser Cutting Table
Cartridge collector mounted outside and ducted to Mazak laser cutting table.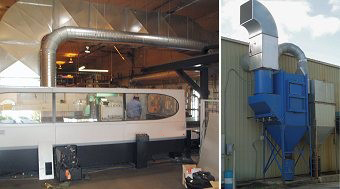 41.
EDM Smoke -- Source Capture
Portable media air cleaner collecting smoke from a 200 amp EDM.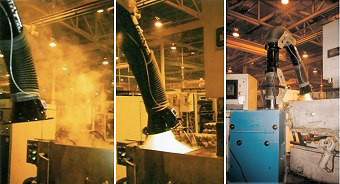 42.
Air Arcing
Cartridge dust control booth used to control fumes generated from an air-arcing. The booth is 10' wide x 12' deep x 9.5' height with 7.5 HP motor providing 10.000 CFM. This booth is equipped with regain air, heavy duty spark arrestors, sprinkler heads and a variable frequency drive used to reduce suction which cartridges are pulsed. A crane is used to bring parts in and out of the booth. Click here for video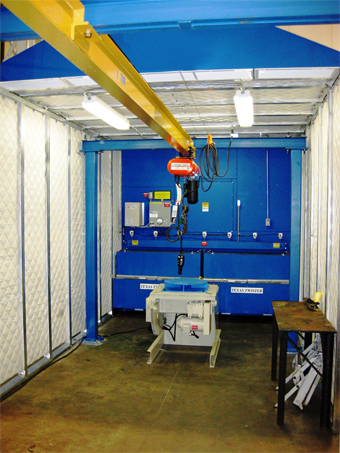 43.
Vacuum Pumps
Four double pass electrostatic precipitators with inlet bleed values used to collect smoke generated from multiple vacuum pumps.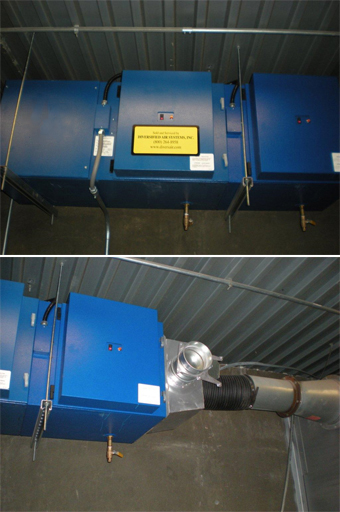 44.
Aluminum Crucible Process
Horizontal cartridge collector used to capture and collect fugitive smoke (sodium chloride) from crucible aluminum process. Dust collector has 32 cartridge filters, auto pulse cleaning system, 8000 CFM with a 25 HP motor.

45.
Laser Welding
MAXFLO cartridge collector, 2 HP, 1000 CFM used on a 16 hour per day operation.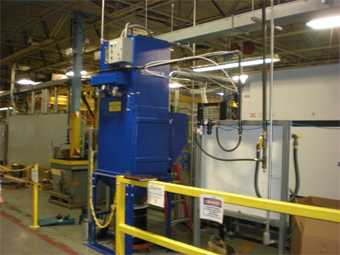 46.
Portable Cartridge Collector for MIG Welding
Portable cartridge collector for collecting MIG welding fumes. Unit has a 6.75"dia. x 7' long self supported arm with 65 watt halogen light mounted in hood, 800 CFM with 1.5 HP direct drive blower, 120/1/60 with 25' yellow power cord. Cartridge filter self cleaning with external dust collection pan.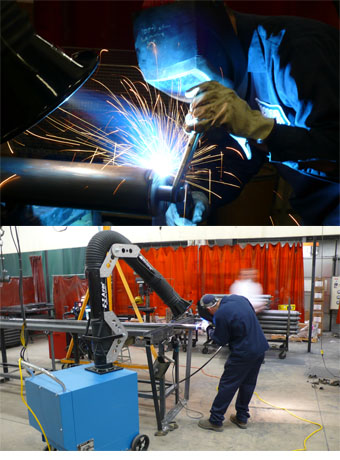 47.
Boom Arms
Fume Extraction Arms 6.75" diameter x 14' length attached to a 14' pivoting boom arms for collecting welding fume.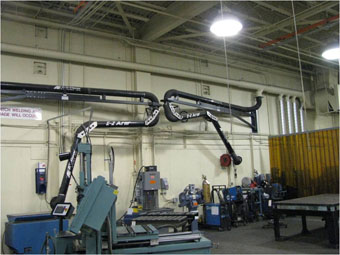 48.
Cooking Vent
MAXFLO stainless steel extractor arm 8" diameter x 8' length arm removes cooking fumes from stove top. Arm is adjustable.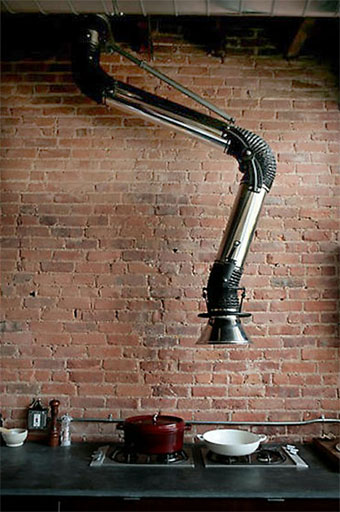 49.
Arc Gouging
Containment Booth 22' wide x 26 deep x 15' tall. Cartridge Filtration with 75 HP blower generating 42000 CFM. Front doors are hinged with wheel supports. Total of 4 doors 60" wide x 178" tall with inlet air louvers and windows. The suction inlet louvers are located at the top of the booth's back wall for spark abatement.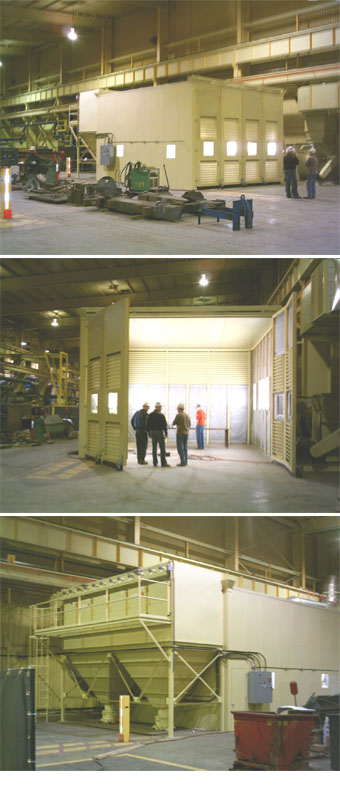 50.
Fume Arm Welding
MAXFLO 6" x 10' long fume arm attached to 5' long MAXREACH BD boom arm for removing welding fumes in a tool room.